Medium & Large Enterprise
Network and Security Expertise for Medium and Large Enterprises
Many medium and large enterprises use legacy networks. These traditional networks are complex systems made up of layers of switches, virtual local area networks (VLANs), and security products. To simplify network management, a growing number of enterprises are adopting a combination of cloud and highly integrated network technologies as their primary operating model. Squadra Solutions offers a rich portfolio of enterprise networking and security solutions.
Squadra is delivering services driven by noteworthy technology trends in the enterprise market, such as:
An NBA Member of the League's Eastern Conference
We provided the NBA team with CISO Advisory and Cybersecurity Engineering Architecture. Our team also delivered Cybersecurity Architecture and Data Networking Solutions for:
A Global Data Center Provider
Squadra helped a global data center provider, with Global Security Architecture and Advisory for 45 data centers. We also worked with them to deliver:
"I've witnessed the digital landscape rapidly evolve. In a world where cyber threats grow in sophistication, our embrace of a zero-trust philosophy isn't just about defense—it's about forging resilience and enabling businesses to operate fearlessly in a connected world"
- Joe Kim
EVP Engineering & CTO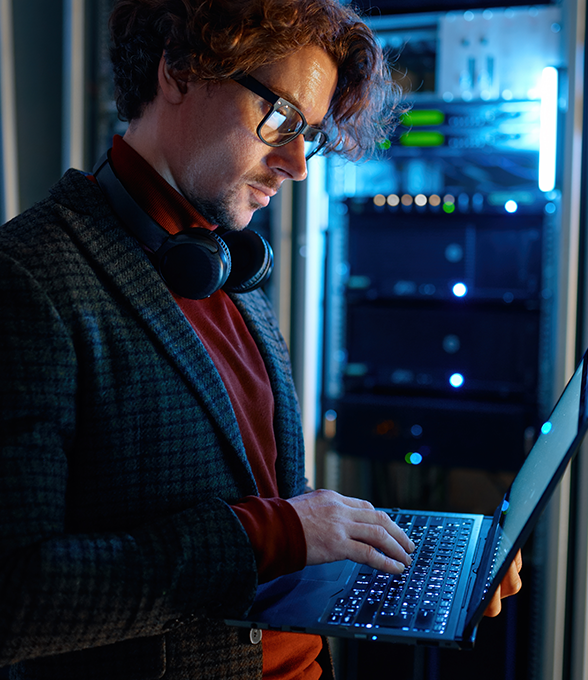 Why Enterprises Should Partner With Squadra
Squadra Solutions offers a wide range of solutions and services for medium and large enterprises, including:
Security Compliance
Real-Time Network & Application Security Architecture
Combined Infrastructure Management Interfaces
Zero Touch Provisioning & End-to-End Network Visibility
Convergence Framework with APIs Integrating with Best-of-Breed Technology
Automation & Orchestration Capabilities
Enterprise Wireless & Mobility Strategy
Virtualization & Cloud Strategy
Our Partners
Squadra partners with leaders in security technology, such as Palo Alto, to provide our customers with transformative and comprehensive networking and security solutions. Our engineers hold certifications across best-in-breed solutions so we can take a vendor-agnostic approach.